Project STEM
Project EAST now STEM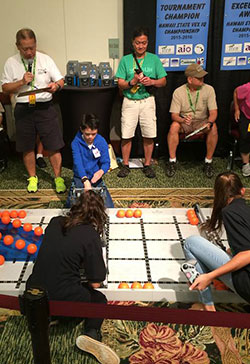 The environmental and spatial technology (EAST) program initiative model introduced in 2006 to Molokai High School and a year later to Molokai Middle School has been replaced with science, technology, engineering and math (STEM) model. Basically, it is the same program just a change in program name.

The EAST model had been recognized nationally as an innovative and successful approach to education. In schools, EAST now STEM is a project-based, service-learning oriented class that provides students with the most current, high-end technologies available in some of the most progressive fields in the world.

STEM is more than a class offering and much more than a "computer class". STEM students routinely interact with hardware and software in animation, computer aided design, engineering design, visualization, database design, webpage design, programming, office automation, global positioning systems, and geographic information systems.

Robotics

In 2014, Molokai Middle School (MMS) started their robotics program. In a VEX IQ Robotics tournament, students use STEM skills to maneuver their robots to score points. Having swept the competition, placing first and third in the state, qualified them to compete in the 2014 VEX Robotics World Competition VEX IQ Challenge Division in California in April 2014.

STEM Continues to Benefit Molokai Schools

STEM curriculum is in all Molokai schools; high, middle, elementary, charter and a private nonprofit. In January 2016, STEM robotic students in all elementary including charter, a private nonprofit school and MMS competed for three spots to enter the VEX IQ Robotics competition on Oahu.

On March 14, 2016 Hawaii News Now reported, "Molokai Middle School's Robotics Team has advanced to a competition on the mainland after receiving the highest honor in last month's state tournament, taking home the Excellence Award, advancing them to the 2016 VEX IQ Worlds Competition."

STEM students have a chance to see their real potential by choosing to become professionals in areas that previously were not an option. STEM enables students to see themselves as winners and truly raises the bar in their expectation for life. In 2006, the Maui Economic Development Board, the Molokai Island Foundation and several Molokai community leaders have partnered to implement STEM into the curriculum of Molokai High and Middle Schools and continue to bring opportunities and support to all Molokai's STEM students and educators.